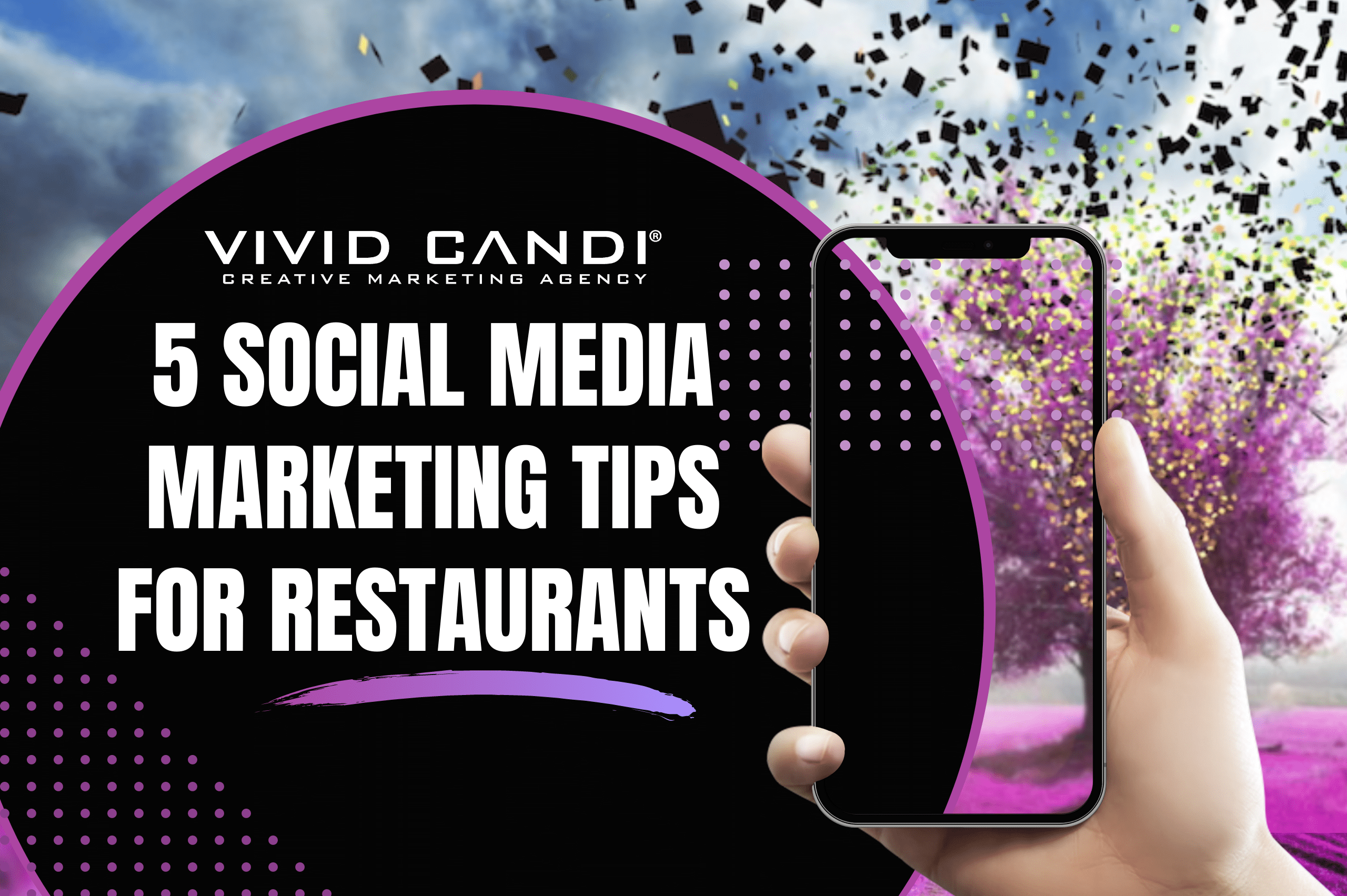 Social media is an essential marketing strategy for any business, but the potential of having a successful social media marketing strategy for your restaurant is especially exciting. Social media platforms can be used to showcase your restaurant's menu, creating anticipation around what's being served to bring customers in. Various platforms also provide innovative tools to convey your restaurant's vibe, turning digital viewers into real-life customers.
Social media is also a great place to promote your restaurant's special events and connect with customers. With millions of users on platforms like Facebook, Instagram and TikTok, if your restaurant's marketing strategy doesn't include social media, you're missing millions of opportunities to build your customer base.
Having a social media marketing strategy for your restaurant gives customers an authentic way to discover you, and the authenticity of that discovery builds into customer loyalty. A successful restaurant social media strategy makes you stand out from your competitors, and customers who find you via social platforms won't stop raving about their real-world dining experiences.
If you're a restaurant owner looking for a comprehensive restaurant marketing plan, you might wonder how to create a social media marketing strategy for your restaurant. In this blog, we'll highlight five tips for building your restaurant's success online.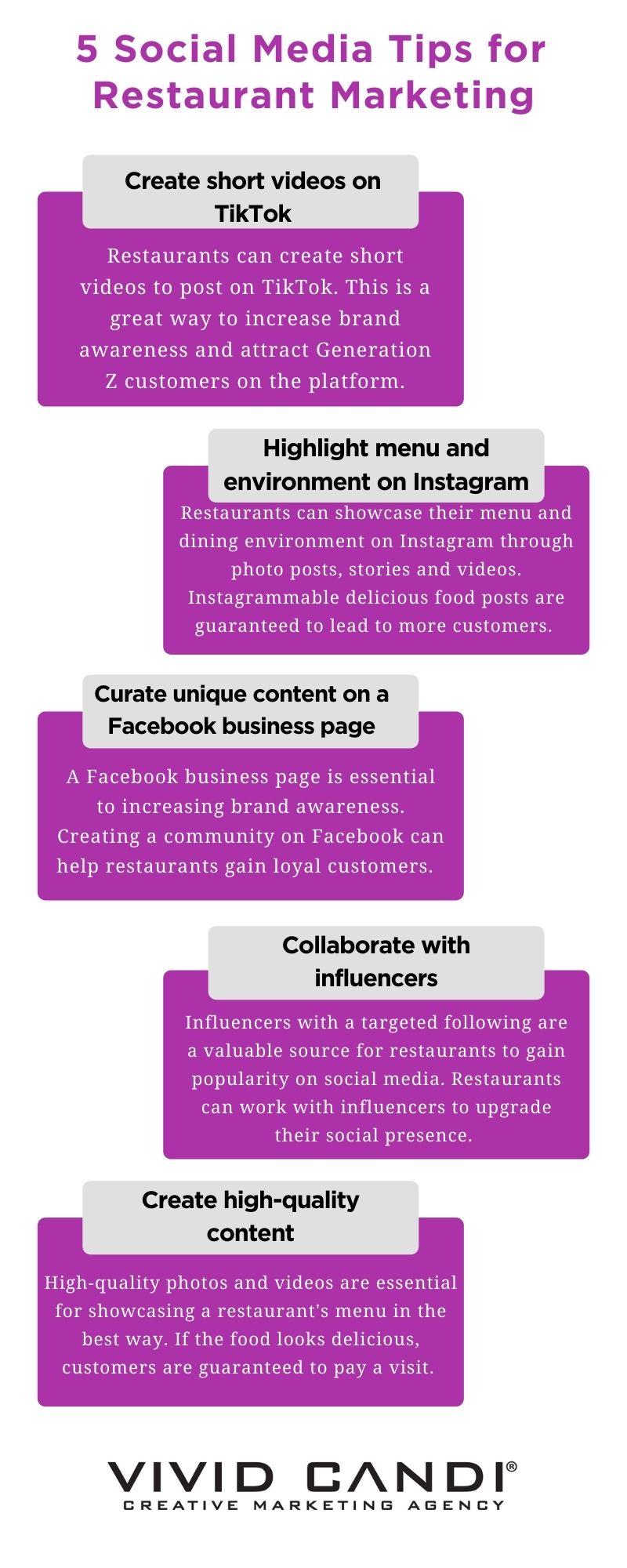 #1. Create engaging short videos on TikTok.
TikTok is the perfect platform for marketing authentic, short-form content to a younger audience. According to a survey by Forrester. 63% of Generation Z uses TikTok on a daily basis, making up over thirty-seven million users. TikTok is expected to grow its users to 1.5 billion users by the end of 2022.
Small restaurant businesses have seen huge success creating brand awareness on TikTok by putting out authentic, engaging content to connect with users. Authenticity is crucial on this platform especially. A great way to authentically highlight your brand is to put out marketing content on your restaurant's behind-the-scenes side. Your restaurant business is unique, and you only have to turn the camera around to let users engage with what makes your place different. Once users connect with your brand, they want to see more, and they want to move their engagement to the real world.
Due to TikTok's unique algorithm, videos can get a lot of views without your account having a large following, unlike Instagram which requires a large number of followers to get results for your content. For example, this video we created for Tacos Gavilan's brand new TikTok account gathered over 50,000 views in just five days.
#2. Highlight menu and environment on Instagram.
Instagram is still the most popular social media platform for sharing photos and highlights. And the platform is designed to provide multiple ways for posting content, whether short-form in Instagram's reels, similar to TikTok, gorgeous posts that stay on your account feed, or stories for 24-hour announcements bringing users into the present moment–what's happening in the restaurant kitchen right now.
Restaurant social media marketing is so much about showing the ambiance, and Instagram is the perfect platform to convey it. One of our clients, The Sunset Restaurant in Malibu, is a great example of the kind of content that generates new business. We post photos and videos of their gorgeous oceanview-outdoor dining as well as the unique interior, both featuring influencers enjoying the menu, so users get a full sense of the experience, building an authentic connection to the brand daily through users' Instagram feeds.
Using this strategy, The Sunset Restaurant saw an increase in local customers and even attracted international customers from the Netherlands, Norway, Canada, Italy, Brazil, and other countries. Customers said they found the restaurant on Instagram and were drawn by the beautiful posts combining scenery with food. With a carefully curated Instagram feed, users from anywhere in the world can access a day at the Sunset Restaurant. And when they visit Malibu, they can't wait to stop in.
Our social media marketing strategy for The Sunset Restaurant successfully grew their wedding leads by four times. The restaurant currently has over 10.5k followers and continues to grow.
#3. Curate unique content on a Facebook business page.
A Facebook business page is a budget-friendly way to spread awareness for your restaurant. Facebook is the largest social media platform in the world, with over 2.9 billion users. As it's evolved, Facebook has developed a variety of functions to help businesses engage with their customers online. One of the best options to engage loyal restaurant customers is to create a private Facebook group. In a private group, restaurants can promote insider incentives to connect with customers personally, building a sense of community that cultivates engagement.
For our client Tacos Gavilan, our agency created a private Facebook Group to build a private community for users to connect about the restaurant, a group that grew organically to one thousand local members within its first two months.
We used the group to spotlight promotions, insider giveaway contests, and share fun challenges that got customers excited to participate and connect.
By asking questions directly to the private Facebook group our agency was able to increase engagement. Many of the posts receive a high number of comments. We responded to each comment individually, which integrated Tacos Gavilan's loyal fan base into the larger customer community and made them feel their value, increasing brand loyalty.
The private Facebook group gave loyal Tacos Gavilan customers a community to connect with, creating a shared experience for everyone who loves the chain restaurant. We got incredible feedback including where customers want to see the next Tacos Gavilan location and what their favorite menu items are.
If you want to build a loyal fan base and increase Customer Lifetime Value (CLV) for your restaurant's marketing strategy, the private Facebook group is an excellent community solution.
#4. Collaborate with Influencers.
Influencer marketing is an incredible way to increase a restaurant's popularity, raise awareness, and tap into the right niche. Collaborating with influencers can help a restaurant create authentic, on-brand content to draw users who relate personally to the particular influencer's lifestyle.
Influencers scale at different tiers: Nano, Micro, Macro, and Celebrity. Restaurants see the most return on investment when collaborating with micro-influencers. Micro-influencers are usually a lower-budget option for posting high-quality content. Micro-influencers (10k-100k followers) are more trusted by their followers than macro-influencers (over 100K followers) because followers view micro-influencers as "friends" who provide credible recommendations. Micro-influencers have high engagement rates due to their authenticity.
And many micro-influencers exchange high-quality content for compensated meals or discounts, which means positive returns on investments for restaurants with smaller marketing budgets.
The best way to work with influencers with measurable Return on Investment (ROI) is to work with an experienced agency that knows how to find the right micro-influencers to connect with and create high user engagement using quality content.
#5. Use high-quality content.
No matter what platforms and tools you utilize for your restaurant's marketing strategy, high-quality content is the top priority for making your restaurant stand out against competitors.
Ever wonder why fast food sandwiches look bigger, juicier, and more delicious in the promotion photos than in real life? It's because these "styled" food images affect customers' subconscious brains, causing them to think of the sandwich as more delicious and desirable.
Your restaurant's marketing content should utilize the same neuro-marketing by utilizing colors, styling, professional lighting, and photo editing to curate the best food images that make your hungry customers want to try every dish on your menu.
Need photography & videography services with food stylists? Contact Our Agency Vivid Candi today.
Schedule a Free Consultation
Vivid Candi is a full-service creative marketing agency specializing in restaurant marketing. Our team is filled with passionate digital marketing specialists who want to see your restaurant business grow to its full potential. Vivid Candi has worked with 100+ restaurant clients, raising brand awareness to expand their customer bases quickly and quantifiably. Our agency is confident in providing marketing strategies across platforms that will connect your restaurant with a growing base of new, unique customers.
Ready to be one of the most popular restaurants in town? Book a free consultation today, or give us a call to see your restaurant grow to full potential today! CALL NOW (310) 456-1784.