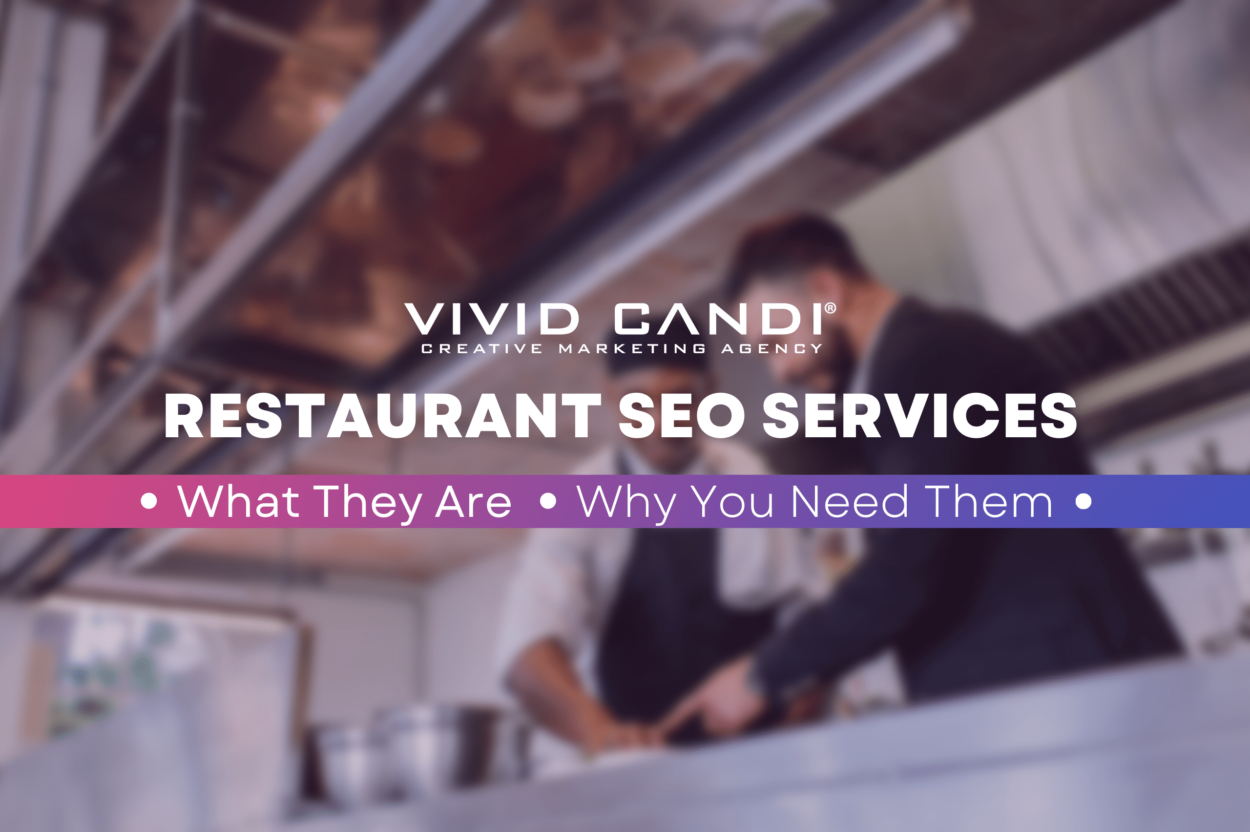 Want more customers to discover your restaurant on search engines such as Google, Bing, Yahoo and Yelp? You need restaurant SEO services (Search Engine Optimization) to help you!
According to this Forbes article, there are one billion restaurant searches on Google every month, while "food near me" is considered to be among the fastest-growing search terms.
Without a doubt, Search Engine Optimization (SEO) is a vital part of restaurant digital marketing. SEO helps restaurants rank their websites in top positions in the search engine results, making it easy for customers to discover dining options online.
Naturally, most restaurant owners are not SEO specialists, so they look for help from digital marketing agencies that provide restaurant SEO services.
In the United States, experienced SEO agencies can cost up to $150 to $250 per hour and most agencies would require $2,000 to $10,000 per month for their SEO services. With such as big commitment to step into the digital world, restaurant owners are still confused about what SEO services are and why they need them.
Our agency, Vivid Candi has 20+ years of experience in digital marketing for restaurants. In this article, we will help you understand what SEO services entail and how your restaurant business can benefit from them.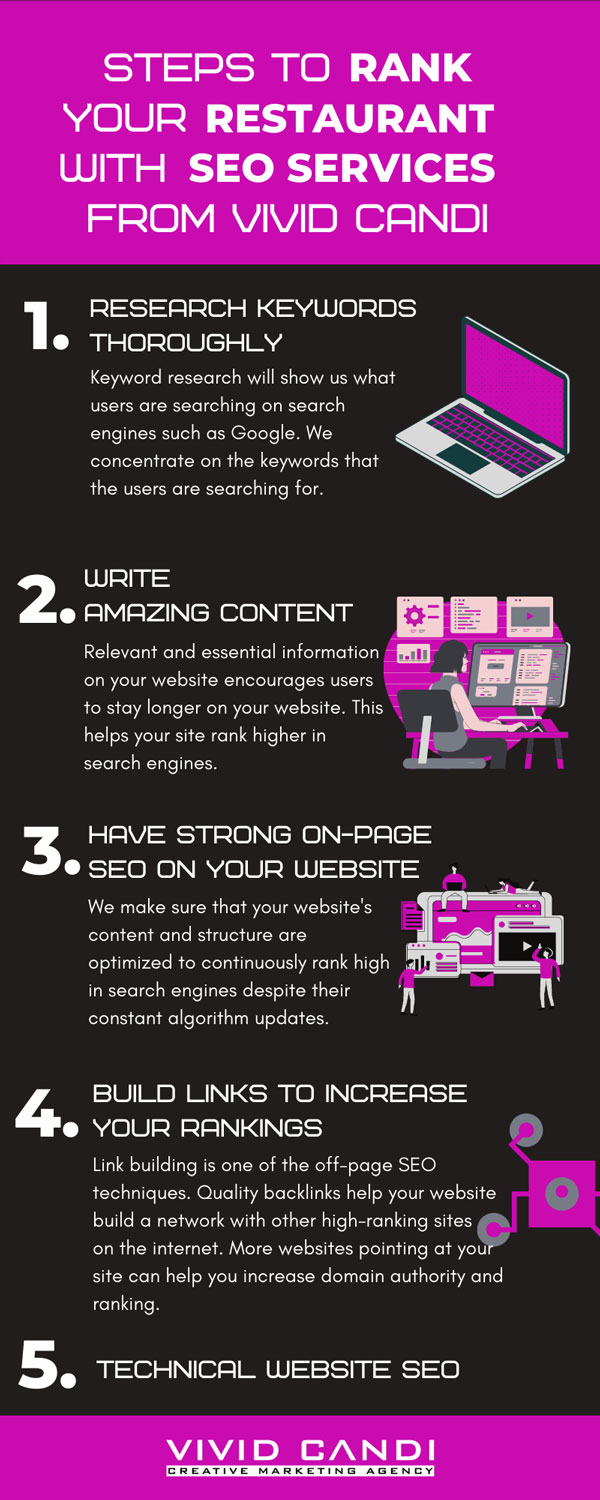 5 Common Restaurant SEO Services:
1. Research restaurant SEO keywords that are easy to rank and have high traffic volume.
If your restaurant works with a professional SEO agency (Like Us!) to grow your website traffic, the first thing is to do keyword research.
With popular keyword research tools such as Google Search Consoles, Semrush and Ubersuggest, SEO specialists can see what keywords your restaurant's website already ranks for and which keywords ranking they can improve. There are millions and billions of keywords on the search engines, so doing proper research is a crucial step to finding the keywords that are priorities.
After finding your restaurant's priority SEO keywords, an SEO specialist can create a content strategy based on the keyword's traffic, intent and ranking difficulty levels.
If you are considering using SEO to grow your restaurant's website traffic, keep in mind that SEO is a long-term strategy that can take 3-6 months to produce results. Knowing which keywords to put your effort into can make a huge difference down the line.
2. Create high-quality content that can rank on first-page search results and increase your backlinks and shares.
We live in a world where everyone is overloaded with information.
A simple Google search "Japanese food near me" has a whopping 3 million results!

With such fierce competition, search engines' machine learning is getting smarter at cherry-picking the best content to rank in high positions.
According to Hubspot, Google has 200 ranking factors that determine a website's position in search results. It doesn't mean that your restaurant's SEO needs to meet all 200 of them, but it's clear that Google's complex machine-learning prefers SEO content that is informational, relevant to the search terms and easy to read.
Of course, there's more to SEO than just amazing content. Experienced restaurant SEO specialists understand how to create content that speaks to niche customers while considering all the ranking factors for Google robots. Restaurant SEO, due to its brick & mortar B2C business model, look completely different from E-Commerce SEO or lead gen SEO.
Grow your restaurant digitally and get more butts in the seats! Our full-service digital agency worked with over 100+ restaurant clients. Inquire Now to book a free consultation!
3. Implement on-page SEO and correct errors.
On-page SEO is a method to optimize individual web pages higher in the search engine results. A restaurant SEO specialist will ensure that all of your website pages have your local niche keywords in the copies, alt-tags, meta titles and descriptions.
When customers look for a new place to eat, your restaurant can show up high on the search results and appear "more popular" than the other restaurants ranking below you.
Let's use the same example of "Japanese food near me".
You want to order from your go-to sushi takeout place that's 5 minutes away but when you search "Japanese food near me", its website is nowhere to be found. Now, you type in its name directly in Google and the website magically shows up.
This is mostly because the sushi takeout website does not have keywords in the website that can help Google understand what kind of business it is.
Typical restaurant on-site SEO services include:
Publishing authoritative, relevant keyword-centric content (Like this blog that you are reading).
Regularly updating your articles to reflect any new changes such as a new menu.
Adding relevant keywords in Metadata.
Creating internal links and content that is linkable.
Adding alternative tags, titles, captions and descriptions in photos and videos so they can show up on Google images and Google videos.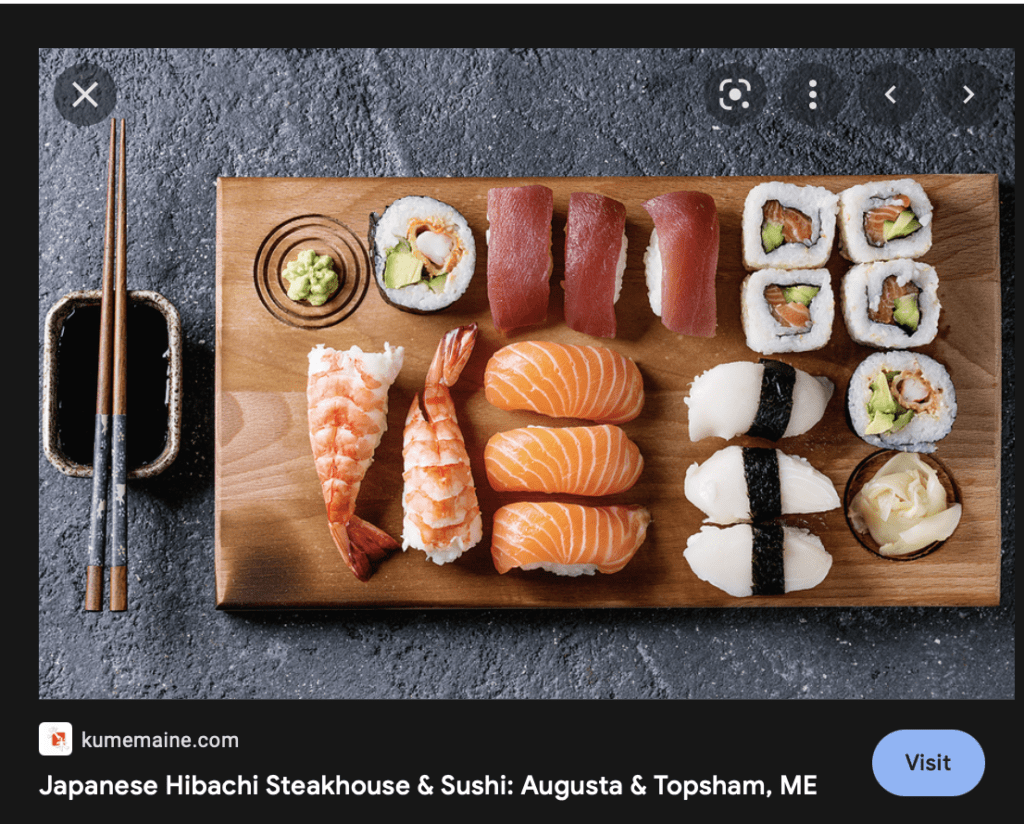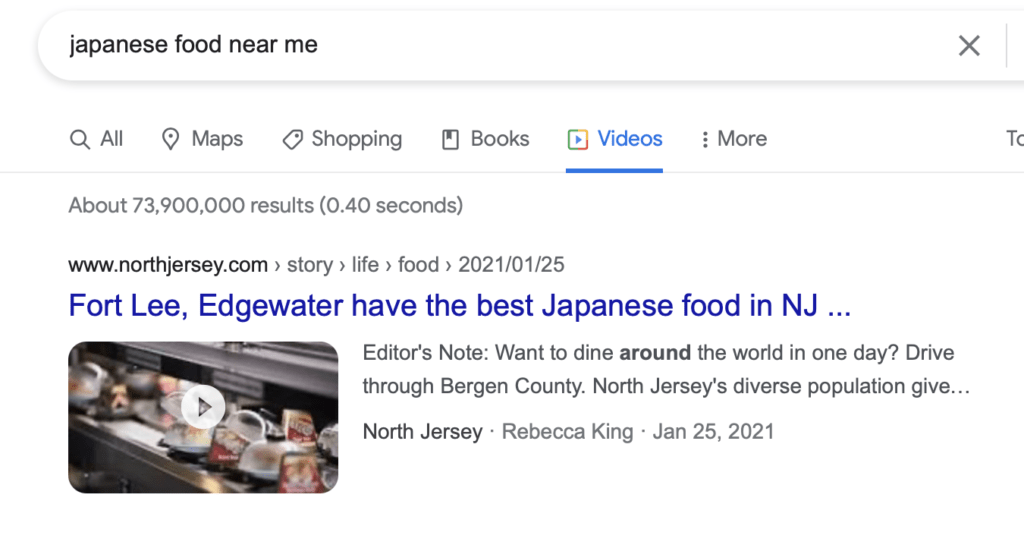 Do your next restaurant's photoshoot with our professional restaurant commercial video/photography service (including food stylists).
4. Build quality backlinks and referrals.
Link building is also known as off-page SEO. On-page and off-page SEO often work hand-in-hand to help websites rank higher in search results and increase traffic.
The more links point to your website, the more authoritative Google considers your website to be. For example, if many restaurant review sites point to your restaurant website, Google & Bing will think that your restaurant is popular, pumping you to the top positions on the search results page.
The quality of backlinks is also important. Having a backlink from Forbes and Yelp pointing to your restaurant is different than that from an unknown blog. There are many shady overseas SEO companies that buy backlinks that link to spam websites. Google will punish a website that has too many low-quality backlinks and erase your presence from search results for any suspicion of buying backlinks.
5. Technical SEO services for restaurants to provide better web experiences
Technical SEO includes making improvements to your website's user experience. With a clear site map structure, Google can index your website more effectively and help serve your content to relevant searchers.
Search engines have website crawlers called "spiders". Spiders can double-check for duplicate content, content and confined backlinks on your website.
Having a website that's mobile-friendly and lightning-fast is a big factor in Google's ranking. Professional website agencies that build custom WordPress websites usually install site speed optimization software to decrease website page load speed.
If a restaurant offers online ordering, a custom-built website has more freedom to add functions that can benefit increase your sales.
It's sometimes tempting to save money and build a website through DIY Wix, Squarespace or cheap freelancers, but the downside will also limit your restaurant's growth.
---
Restaurant SEO services are different from traditional SEO due to the brick & mortar business model.
Restaurant SEO services are different from SEO for e-commerce and lead gen businesses. Converting online traffic to foot traffic is a challenge and requires more than just optimizing a website. Knowledgable restaurant SEO specialists will also optimize Google My Business listing and Yelp profiles to maximize the benefits from functions offered by search engines such as Google.
Want to work with our agency to grow your restaurant's foot traffic digitally?
Work with our Google Partner Digital Agency!
CALL (310) 456 -1784
Trusted By 100+ Restaurants