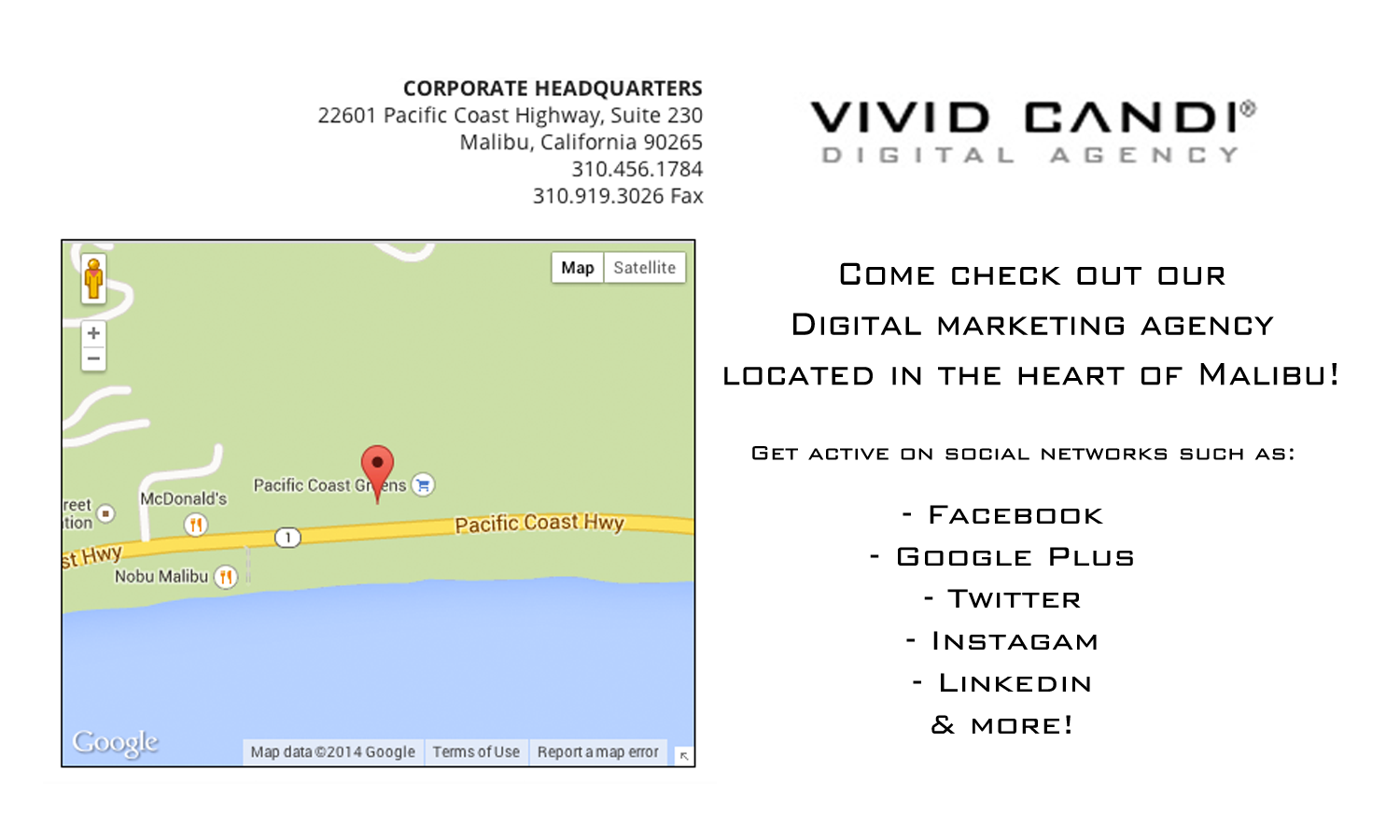 DIGITAL MARKETING AGENCY IN MALIBU
Just drive north up the PCH road and you will find yourself in a beautiful sunny side Malibu. Our digital marketing agency is located in the Carbon Beach Center. Specializing in many professions such as Web/Graphic design, and digital marketing, our full service digital agency brings results that are out of this world!
      We can not only create a Vivid website that is both clean, and easy for users to navigate through, but we can also help you're business get found online, because what good is a professional website, if nobody can see it? It's time to face it. This isn't 2004. You can't just go online and buy back-links and get away so easily, this is 2014 going to 2015! We can create content for you're blog, and enhance all the content in you're websites pages. Giving us the opportunity to share it on social media networks such as Facebook, Twitter, and Google Plus. We can even promote you're product on Instagram! When working on our clients we take in mind that we are creating content for two audiences. The search engines, and the people. Our approach with social media is different, we let people know that there is a person behind all of those posts, using images that both engage with the use, and relate to the content. We gain external links by either gaining multiple shares, likes and comments, or by building relationships with followers. Gaining external links is important because it lets search engines know that you are a reputable website with people listening to what you say. This also builds you're domain authority, putting you above those with not much authority. Our methods all go towards building you're online presence, and dominating the search engines to you're favor.
    We built our agency using our very own marketing skills. Making sure that we pop up at the top of search engine results, making it easier for clients to find us. Over the time we found that other businesses might find our digital marketing skills to be of benefit, just as we did starting off, so we decided to make it possible for our clients to achieve what we did!
Stay connected! We are on
– Facebook
– Twitter
CONTACT VIVID CANDI TODAY
You can either call us at 1310-456-1784 or inquire online!
Visit the about us page for more info on our agency!