Vivid Candi Case Study
MOD Cold Press Juicers
We dived deep into increasing MOD's sales through a new website focused on the US market, and paid ads on Facebook, Instagram, Google, and Amazon.
MOD Appliances is a Melbourne-born and 100% Australian-owned lifestyle brand created by a group of friends and wellness enthusiasts. MOD sells high-quality, easy-to-use appliances that can play an important role in improving diet and general wellbeing. MOD came to Vivid Candi when finding difficulty in selling their award-winning cold press juicers in the United States. They soon found the market and consumers to be extremely different from their target audience in Melbourne.
---
Highlights
---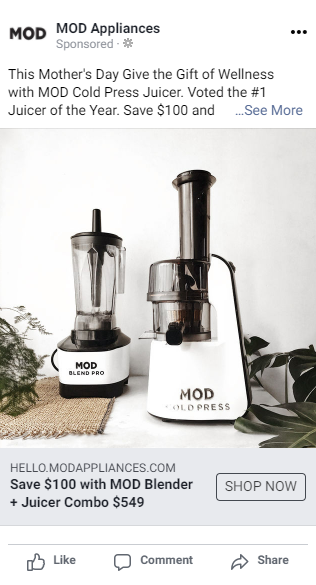 Key Highlights
Increased sales in the US by 300%
How we did it: With our combined ads strategy on Facebook, Google, Instagram, and Amazon we got 74 sales in one month.
---
Decreased Google Ads cost per conversion by 37% in 3 months
By month 3 our Google Ads were converting at the lowest cost ever in the US — went from $154.62/sale to $98.28/sale
---
Increased Amazon sales by 2400%
How we did it: We added MOD Juicers to Amazon, optimized them for the best performance, and ran ads getting an average of 24 sales per month.
---
Decreased Facebook's cost per conversion by 78%
On mother's day, we launched a Facebook Ad campaign with the lowest cost-per-result yet, generating 12 juice sales @$107.50 CPA, previously MOD was spending $200-$500 per conversion. Our Mother's Day Ad brought in all the sales, compared to the AUS creative provided for us by their team
---
Services Provided
Want to talk about marketing for your business?
CALL NOW (310) 456-1784