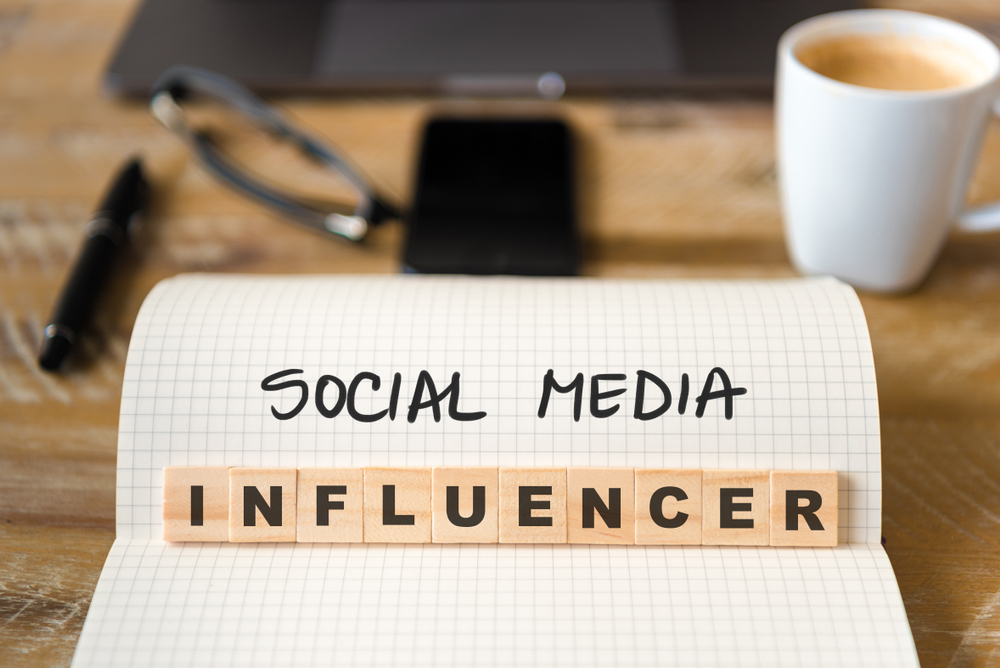 No one predicted that a mysterious virus that emerged in Wuhan, China would change the world around us. All across the globe, life is on standstill and most economic and social activities have come to a halt. Businesses have had to make a lot of hard decisions over the past few months, from changing how their business operates to making budget cuts. Influencer marketing is among one of the many industries that have been disrupted by the coronavirus pandemic. With sponsor deals shutting down, trips canceled, and events postponed, the once booming influencer industry is going through an unusual and unpredictable time. Social media influencers and businesses have had to quickly adapt to new circumstances.
In December 2019, Business Insider estimated that brands will invest up to $15 billion on influencer marketing by 2022. Among other things, this estimate was based on the fact that social media influencers proved themselves to be highly effective promotional tools. Individuals with a significant following on platforms like Instagram, YouTube, TikTok, and Facebook became important voices for brands that were seeking to spread their word. However, under the current circumstances, many influencers are not seeing as much money flowing into their bank accounts as they previously did.
Because of the various regulations as well as the changes in consumer behaviors, needs, desires, and wants, many businesses have had to shift their marketing strategies during COVID-19, including the way they market, who they market to, and even what they market. Marketing strategies that may have worked previously may no longer work now. Moreover, the products and services that a company previously offered may no longer add value to the lives of consumers. It is important as a business owner to understand how to ensure good consumer experience and how to utilize various marketing strategies to your strengths during this time. As the near-term effects of the coronavirus outbreak continue to be felt across the global economy, businesses and creators alike are doing their best to adapt to changes in the influencer marketing industry. Like any other person or business during this time, influencers and content creators have had to adjust to rapid changes in the industry as the coronavirus continues to spread globally. There are perks and downsides to all of the changes coronavirus has brought upon us. In this guide, we will discuss both the challenges and changes social media influencers and businesses have seen with influencer marketing, and share tips for influencers to use during the COVID-19 coronavirus pandemic.
How Coronavirus is Changing Internet Usage and Media Consumption
How Has the Coronavirus Changed How You Use the Internet?, an article written by Jeremy Engle for the New York Times, discusses how stuck at home orders during the pandemic have led Americans to spend more of their lives online. In the Times' analysis of internet usage across the United States, they found that with nearly all public gatherings called off and stay-at-home orders put in place, Americans are seeking out entertainment on streaming services like Netflix and YouTube, and looking to connect with one another on social media outlets like Facebook.
In the past few years, users of these services were increasingly moving to their smartphones, creating an industry wide focus on mobile. Interestingly enough, however, now that we are spending our days at home with computers close at hand, Americans appear to be remembering how unpleasant it can be to squint at those little phone screens. Facebook, Netflix, and YouTube have all seen user numbers on their phone apps stagnate or fall off as their websites have grown. Moreover, with the rise of social distancing, we are seeking out new ways to connect, mostly through video chat. While traditional social media sites have been growing, it seems that we want to do more than just connect through messaging and text — we want to see one another. As a result, several video chatting apps like Google Hangout, Duo, Zoom, and Houseparty, all of which allow groups of friends to join a single video chat, have seen large increases in their user numbers.
Moreover, internet behavior and in-home media consumption due to the coronavirus outbreak has vastly increased, according to several studies. A global online survey, Consuming media at home due to the coronavirus worldwide 2020, by country, conducted in March 2020 by Statista, revealed that the coronavirus has had a direct impact on in-home media consumption around the world. 44% of respondents worldwide said that they were spending longer on social media. 51% of respondents worldwide said that they were watching more shows/films on streaming services like Netflix, whilst 36% said they were spending more time on computer/video games.
Between January and late March, internet traffic increased by around a quarter in many major cities, and the demand for online services skyrocketed. Video calls have replaced face-to-face interactions and stay-at-home entertainment is booming. This is a time like never before. The desire for digital content is at a peak. If done right, businesses and influencers alike will still be able to make a profit and keep their loyal consumers.
How Coronavirus is Changing the Influencer Marketing Business
As with most businesses around the globe, budget cuts have been made in various areas. This is especially true within the advertising industry. Many professionals are trimming budgets, canceling events, and ultimately looking for alternative revenue streams during this time. As such, social media influencers have seen some of their sponsorship deals shut down and events canceled. As a result, many influencers have shifted their focus to alternative revenue streams that allow them to continue to earn a living without leaving their homes to practice social distancing and abide by the stay-at-home orders. Influencer marketing agencies, like ourselves, are seeing brands postpone campaigns while also observing that engagement on social media posts is higher than normal as more consumers spend time in physical isolation.
Sponsored Content Deals Are Fading for Social Media Influencers
Sponsored posts on Instagram fell from representing 35% of influencer content in mid-February to 4% of creator content in mid-April, according to a report from the marketing-analytics firm Launchmetrics. The drop comes as many influencers have had deals put on hold. Some marketers are predicting a near-term 15 to 25% dip in the average price of a sponsored post as demand for branded influencer content declines.
Instagram influencers and YouTube creators, especially those whose main content revolves around travel or events, are facing a steep decline in business. Those who earn the bulk of their money through sponsorships such as paid trips and experiences are having to make adjustments during this time.
Travel and Event Based Opportunities Have Shut Down for Influencers
Traveling from country to country and getting paid to do so is a dream life for many. But those who have been living this dream as a social media influencer, have been struck by a harsh reality. With countries suspending air travel and companies reluctant to invest in anything new, business isn't exactly booming for vloggers, social media influencers, and content creators who made a living traveling around the world. Throughout this whole pandemic, travel influencers have been hit the hardest.
Many brands have postponed influencer-marketing campaigns in recent months in an effort to cut costs and avoid appearing insensitive. For creators, however, it's unclear when — and if — these sponsored content opportunities will return post-coronavirus. Some companies are delaying campaigns so they can make logistical adjustments to social media influencer work that once required travel or on-site production. Meanwhile, others are pushing back launch dates to retool campaign messaging that was written before the coronavirus outbreak and now feels out of touch. It's important for brands and businesses to be extra cautious about the content and messaging they push out during the global pandemic. There is a fine line of what is seen as acceptable right now for those in the advertising business.
Travel blogger Oneika Raymond, who has 84,900 Instagram followers, told Business Insider: "I think a lot of people in the travel industry are holding their breath… Companies are reluctant to take on anything new and therefore that is impacting the income of creators." Moreover, travel influencer Lauren Bullen who currently lives in Bali and is known as @gypsea_lust on Instagram with 2.1 million followers, said all her paid trips had been canceled. It is still unknown whether many of these brand collaborations and deals will happen in the future, or if brands are just saying they are postponed to be polite.
Fitness Influencers are Thriving
Unlike travel influencers, fitness influencers are absolutely thriving during this time. Fitness creators are seeing spikes in traffic to their pages as people around the world are forced to stay home and socially distance. Videos of home workouts have already generated millions of views on YouTube. With gyms and fitness centers closed, people are running (no pun intended) to fitness influencers on sites like Instagram, YouTube, and TikTok to find ways to stay fit during the pandemic. Because many fitness influencers typically promote their own programs, rather than relying on advertisements for revenue, they are surprisingly safe from the harmful effects of the lockdowns. With boosted engagement, many fitness influencers have seen an increase in their social media followings as well as increased subscriptions to their apps, blogs, and other platforms.
As ECommerce Surges, Social Media Influencers Have Seen A Recent Jump in Affiliate Marketing Sales
In an interconnected and increasingly digital world, online commerce may be the largest global economy on the planet. This is especially evident since the beginning of COVID, as consumers are increasingly shopping online. Some affiliate marketers have seen spikes in eCommerce sales in recent weeks as consumers spend more time at home and shop online. According to Adobe Analytics, online sales in the U.S. have increased 25% on average for daily sales March 13-15 compared with average daily sales March 1-11. The growth is largely due to a boost in online grocery sales, which have increased 100% in daily online sales March 13-14 compared with average daily sales March 1-11.
"U.S. consumers are turning to eCommerce more during the COVID-19 outbreak due to the fact that social distancing measures and shelter-in-place orders have made online shopping more convenient or in some cases, the only way to get the goods they need," says Taylor Schreiner, director of Adobe Digital Insights.
The Adobe Digital Economy Index (DEI) finds that what people buy online is expanding as one-day delivery, buy online pick up in-store, and other fulfillment innovations make more products digitally accessible. And, price pressures in areas such as apparel, TVs, and other categories are keeping overall online prices down. However, as more price-stable and thinner margin goods such as online groceries are being bought online, the overall descent of online prices is also flattening.
Click-to-Cart technology, which allows consumers to cart product(s) in a single choice, is becoming increasingly more popular right now. It takes the consumer directly to a company's website so the product is already in the consumer's basket.
Although influencers have seen a big bump in affiliate link sales, it's important to note that this could be threatened as major retailers have begun to start cutting their programs. Large brands like Macy's, Ralph Lauren, and Victoria's Secret have suspended or lowered commissions on affiliate programs to save on costs.
Social Media Influencers and Marketers Are Shifting Strategies to Continue To Earn A Living
For many influencers, brand partnerships are the main source of their business. This is especially true for social media influencers whose main platform is Instagram. The coronavirus pandemic has impacted the businesses of social media talent, and influencers are having to switch up their strategies to continue to bring in revenue. Despite the sharp downturn in sponsored post deals from brands, creators are taking a variety of approaches to continue to earn a profit. Some are focusing on long-term bets like direct-to-consumer businesses or alternative revenue streams like consulting, teaching, and coaching. Meanwhile, others are leaning into YouTube advertising or finding new ways to make sponsored content from home.
Changing Their Business Models
Influencers have had to not only make adjustments to the content they create and post, but also change up their business models and move away from ad-supported revenue streams as brands cut marketing budgets. Sponsored posts fell from representing 35% of influencer posts in mid-February to 4% of creator content in mid-April, according to a report from the marketing-analytics firm Launchmetrics. 
While sponsored content has long been a predictable and essential source of income for digital creators, the industry offers a variety of other revenue streams like merchandise, direct-to-consumer products, and content production deals that creators are leaning into. The biggest factor propping up the influencer industry in recent weeks is a spike in consumer demand for social content, which is stronger than ever.
TikTok just broke a record for the most app downloads in a single quarter and Instagram influencers have reported a large bump in user engagement on the app's Stories and Live features, following a broader trend toward more live content consumption on platforms like Twitch and Facebook. Google reported a year-over-year spike in YouTube viewership during its first-quarter earnings call.
Shifting Focus to Long Term Projects
Despite all of the rapid changes happening, many influencers are taking this time as an opportunity to get organized and create content at home they may not normally have time to do. Influencers are finding many creative ways to stay busy and still earn a living. Staying focused on long term goals, and setting adjusted, realistic goals for every day can be extremely helpful.
This is a time to work on tasks you normally push off to be finished later. The ones that you continuously have on your to-do list, but never seem to have the time to complete. This is a great time to brainstorm and schedule out content and photos for the next few months so you're ahead of schedule. Preparing meetings, pitches, and emails for when things start back up again can help you later on as well. Moreover, spend some time making sure you have all of your finances, expenses, photos, and documents all organized. It's all of the little tasks and time-consuming items that will help you feel productive and busy. Once things pick back up again, you'll feel a lot more prepared.
Leaning Into Other Content Verticals
Some influencers have adjusted the type of content they make and post to account for new consumer tastes during the coronavirus pandemic. Audiences on social media aren't searching for the same content as before, as their priorities or needs may have shifted. Regardless of the circumstances, audiences are still active, growing quickly, and hungry for information. They are just looking for information that's relevant to life at home.
Travel influencer Christina Vidal, who has 85,000 Instagram followers, told Business Insider that she began to notice her readership dip in mid-March. To bring back her audience, Vidal has been leaning into other content verticals like food and lifestyle. She studied Google search results to identify what topics were trending and has customized her posts to increase their likelihood of showing up in those searches.
Adjusting to the Changing Needs of Consumers
Brands and influencer marketing agencies are adjusting to the ever-changing needs of consumers as social distancing and shelter-in-place policies keep more customers at home. Marketers are reporting that both views and engagement on social media have increased in the past few months as more users spend time in social isolation. This has created an opportunity for companies and influencers who don't necessarily require professionally produced content to lean into promoted posts. Moreover, marketers have seen an uptick in ad impressions and engagement on sponsored posts on social media. In fact, Obviously, an influencer marketing agency, reported a 76% increase in daily "likes" on sponsored Instagram posts in the first two weeks of March. Brands are moving away from conducting photoshoots with influencers for brand campaigns and turning to animation and user-generated content filmed by influencers at home. It's important to note, however, that not all companies are continuing to collaborate on social media, as some have completely pulled back on influencer marketing budgets.
Specialized Production Skills
Business Insider published an article How the coronavirus is changing the influencer business, according to marketers and top Instagram and YouTube stars, in which they stated: "advertisers are also discovering that the influencer-marketing business model could be particularly well-suited to a time in which DIY ad content filmed at home remains viable while commercial photo shoots are shut down."
Digital creators with specialized production skills appear to be better positioned than most to continue working with limited disruptions during an extended period of sheltering in place. As production companies shut down photo and video shoots in order to adhere to social-distancing measures, some brands have been turning to influencers to create ad content. In fact, many brands have been looking to hire specifically for content creation during this time. With YouTube, it's apparent that you don't need full-blown, big-budget television ads anymore. Content creators and influencers have proven that.
Influencers During the Coronavirus Pandemic
Influencer Central recently published the results from a survey they conducted with over 370 of their social media influencers to capture their trend-spotting as consumer bell-weathers. According to this survey, influencers are seeing a surge in social media impressions and engagement across platforms during the coronavirus pandemic. This is because more and more followers are connecting to influencers for their content to get guidance. In tough times of uncertainty, like now, people want to get more information from people and resources they trust, including influencers.
Social Media Influencer Tips For During the Coronavirus Pandemic
As an influencer and content creator, it's important to know how and where to shift your own business models so that you can still make a profit, while still being true to your brand and name. As you embrace new communications principles and ways of pushing out content, it's important to constantly reassess your strategies and techniques. What works today may not work tomorrow; as news and market dynamics continue to change, you and the brands you work with will also need to change. If you're struggling to figure out ways to stay afloat during these times, we've got several tips for you to implement into your strategy and to continue to make revenue.
Be Authentic
As always, one of the most important things to remember as an influencer is to be authentic and true to yourself. As a content creator and someone in the public eye, you have the ability to tell your brand story in a way that resonates, so long as you provide authenticity behind the words and images you share. Audiences know when an influencer is genuine with their recommendations and this type of sponsored content serves to strengthen influencer credibility and impact. When an influencer strays from this, however, the content becomes nothing more than a lackluster repost of brand party lines, causing audiences to lose interest and trust to be eroded. Your fans will be the first ones to see through canned empathy, so focus on being real with them.
People want to find a voice that they can trust, especially in this time of uncertainty. With so much information constantly being published, it can feel a bit overwhelming. But once they find that someone, they often latch onto them and listen to their opinions. So, be that person for your audiences. Share content that you truly believe in, so that your audiences can trust and believe in you. Although you may not be able to continue to post the same content as you normally would, find ways to take what your brand and business is all about. Remember the foundation that helped build up your influence to what it is today. Use your strengths and creativity to make content that your audiences will still resonate with, even if it's different than before.
Be Responsible
Now, more than ever, people are on their electronic devices, scrolling through digital content. Not surprisingly, in-home data usage has been rising in recent months. From seeking out pandemic updates online to pursuing various forms of entertainment from music to memes, this amplified demand means that brands have more opportunities than ever before to engage with audiences.
As an influencer, you hold a lot of power, and with that comes a great responsibility. Many consumers look to influencers for advice and recommendations. You can help drive inspiration and keep spirits lifted. Think about what your audiences' biggest needs right now are, and how can you pivot to help.
In an article written by Laura Bradley, Dr. Paige Jarreau told Daily Beast: "An influencer already has a strong following on social media…if they do put misinformation out there and it starts to get retweeted, it could travel very quickly. It's also very difficult to correct myths."
Remind Your Audiences That You're Here for the Long Haul
By investing in the right kind of social campaigns in this moment, you can help maintain brand affinity over time. While many industries and businesses are currently on hold (i.e. travel destinations, gyms, retail stores, etc.), they won't be forever. As an influencer, you can help remind your audiences that you're still here, and that the brands and businesses that you love and recommend, that hopefully your audiences have learned to love because of you, will be here too. There are many creative ways of keeping your name top of mind without coming across as inconsiderate.
Bring Value to Your Audience
If you're asking for people's attention during this stressful time, you need to be able to say how you can support their lives. Now more than ever, it's critical to show audiences that you are in tune with their needs. Your goal should be to provide value, deliver relevant messaging, and forge connections with your audience. Some things to consider include: How can you and your brand help people stay entertained or productive at home? How can you help people stay safe? How can you help drive inspiration or keep spirits lifted? What can you bring to the table that's different from other influencers or content creators? What makes you special and why do people want to listen to your advice and opinions?
Use This Opportunity to Connect
In light of the COVID-19 outbreak, take a second to pause to see how your followers are feeling. Use this time as an opportunity to connect with your audiences. A little bit of humanity goes a long way, especially in times like this. Let your followers know that you care by checking in on them and by listening to their opinions and needs. Reach out and proactively acknowledge the changing environment that you and your followers are all experiencing. Engage with them in real time on social media by utilizing live streaming services like Instagram Live, Facebook Live, and Twitch to answer questions, connect on a more personal level, and act as a support. It's important to show gratitude for their support, and therefore you should show that you value them.
Do Some Research
If you've noticed a dip in your audience engagement and interactions, try leaning into other content areas. Do some research to see what topics are trending, and then customize your posts to relate to those topics. This will more likely than not, cause your content to show up in those searches. To bring back her audience, Vidal has been leaning into other content verticals like food and lifestyle. She studied Google search results to identify what topics were trending and has customized her posts to increase their likelihood of showing up in those searches.
Do Something to Support Your Community
This is the perfect time to reach out to brands and create organic partnerships that make sense. For instance, fabric brands are partnering with crafters to showcase mask-making instructions. Home improvement stores are working with DIY enthusiasts to share home-based home projects. Recipe bloggers are showcasing grocery-stretching meal creations that incorporate food brands and so on. Whatever your niche may be, find new ways to make content that is relevant and helpful to people during these times.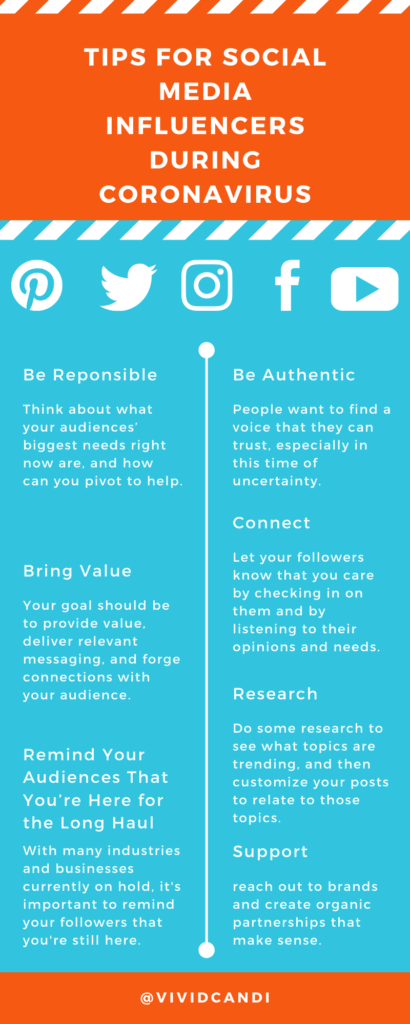 How Vivid Candi Can Help You As A Social Media Influencer
Vivid Candi is a full service digital tech agency established in 1999 by a then self-made 16 year old Chris Wizner. Over the past 21 years, the award-winning agency has made its mark as an industry pioneer through innovation, experience, and dedication. At Vivid Candi, we understand that influencer marketing is one of the fastest growing marketing strategies in our digital world today. Becoming successful as an influencer is like representing yourself as a brand, and it's just as important to build strategic awareness with the right niche audiences that will help grow your organic following and engagement. 
Our agency has over 20 years of experience working on the other side with brands and extensive experience with influencer partnerships on behalf of brands and influencers – so we know what influencers and brands want and how to best execute successful collaborations. We have a robust in-house team doing all of the research, relationship building, and negotiations to help increase your personal brand awareness on your behalf.
Another unique feature about our influencer marketing agency is that we will analyze your feed and give detailed feedback to help you improve your strategy, and create a sample feed using your existing content with valuable direction to improve your overall content creation. As we connect you with the right brands and other influencers, we strive to build long term relationships. Non-exclusive representation means you can still work with whomever you want outside of the collaborations we create for you. Our agency offers a full array of services to both brands and influencers, therefore we are always on the cutting edge. Let our agency make it happen for you.
Brand Partnerships
We do the legwork to get you chosen for paid brand partnerships that look natural on your page and resonate with your followers.
Social Growth
We know how to grow your (real) follower count and reach to elevate your influencer status to the next level on all platforms. Whether you're looking to grow your brand on Instagram, TikTok, Facebook, YouTube, or any other social media platform, our digital agency can help you.
Taylor Grey is an artist in the music industry. When we started working with Taylor, her Youtube videos had <50 views, and within a matter of a couple of months, we were able to get three videos to 1M+ views. With our research and experience, we were able to post and promote several videos that gained a lot of traffic. Vivid Candi helped Taylor's "MIAMI ft. Spencer Kane (Official Music Video)" video on YouTube gain over 1 million views and her "POISON (Official Lyric Video)" video on YouTube gain over 2 million views. In addition to Taylor Grey's YouTube Channel gaining a lot of traction, Vivid Candi also helped increase traffic to her website, Instagram, Facebook, and Twitter.
Introductions
Over time, we've built amazing connections, and we'd love to introduce you to other influencers and artists in your industry to crossover your audiences, make new friends, and collaborate to create fresh content.
Influencer Portal
As an influencer marketing agency, we have created an amazing Influencer Portal that gives you unlimited access so you can up your influencer game, create the right kind of content, and build your niche following right away. The Influencer Portal provides all the tools you need to help you build a powerful stage. Our self-service Influencer Portal is your one-stop-shop to learn the secrets of the trade! Think about yourself as the "brand" you want to sell. Find your audience and your voice, and develop your image. Whether your goal is to get paid or trade for brand collaborations or to share your passion with a following such as beauty, fashion, or music, we provide a combination of video content, brief and informative PDFs, and worksheets to help you attain influencer-status. Every month, we add new content so you can learn how to enhance your social media presence and achieve your goals as a social media influencer. Vivid Candi's Influencer Portal can help you understand your image, voice, and audience, while also growing your account.
Learn more about Vivid Candi, a digital tech agency in Malibu, that offers full-service digital marketing services, custom web design and development, and more for a multitude of clients.