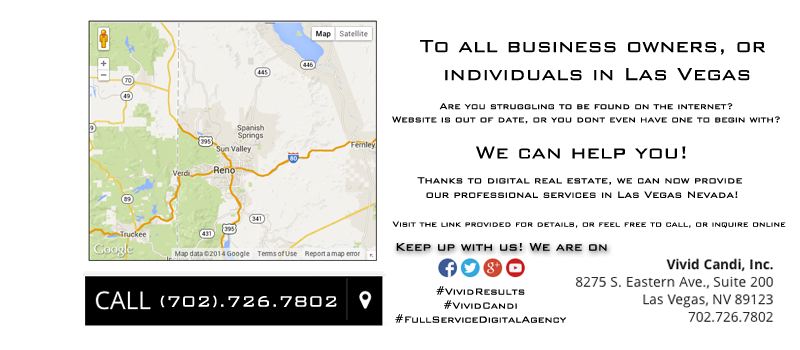 DIGITAL AGENCY LAS VEGAS
Originally located in Malibu California, but thanks to Digital Real Estate now serving businesses, and organizations across the country, Vivid Candi is a full service digital agency offering professional services such as Web Development, Graphic Design, Digital Marketing, SEO, Printing, and more!
       Since 2001 we have been developing websites from scratch for business owners, big celebrities, chain restaurants, and more. Overall, the experience that came with dealing with all of those clients made this full service digital agency the way that it is today. We have helped many local businesses in our area grow and adapt to new methods of marketing, helping them build their online presence, build domain authority, and even make necessary improvements to the website. Thanks to digital real estate, we can now help clients at an international level, all you have to do is fill out this Form to get in contact with our Las Vegas offices. If you want to go ahead and try calling you can dial 702.726.7802
Whatever you're business needs to grow, we know what it takes, we've done this before! Wether you seek:
– Digital & Social Media Marketing Services
   If paying 10-30k for a custom website is out of you're range, it's ok! Since we have dealt with plenty of small local businesses that were barely starting off, with not allot of money to spend, we had to provide a way for them to go through with the payments. We came up with 2 choices, either you can get a hybrid template website, or a template. Or you can get the custom website, but go through with our other website financing options. If you are in the Las Vegas area don't wait to contact us, we can arrange a business meetings in many ways.
Our mission is to help millions of businesses out there struggling to adapt to this new digital age!
Stay connected, we are active on the following:
– Facebook
– Twitter
CONACT VIVID CANDI TODAY
Call 702.726.7802 or inquire online. 
Visit the about us page for more info on us!