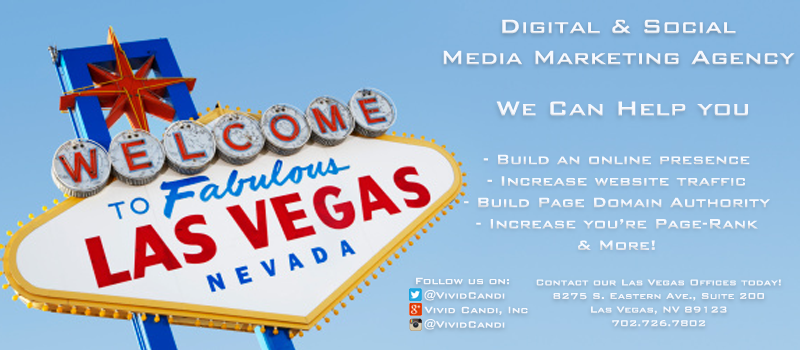 DIGITAL & SOCIAL MEDIA MARKETING AGENCY IN LAS VEGAS
For those who seek professional digital marketing, and social media management services in Las Vegas, you are in luck! 
        We are Vivid Candi, a full service digital agency originally headquartered in Malibu California. Over the years we have been helping businesses, organizations, and individuals grow, and stabilize their brand, both making them active on social media, and creating content for their site, making them relevant to the search engines. Our agency noticed, that across the country there are many more businesses starting off that need our help, but they can't come all the way to Malibu. But thanks to digital real estate we can now make our professional services available in all big cities that need it!
       Now we can help businesses in Las Vegas and other areas we serve get known, and help build their online presence gaining a bigger audience using major social networks such as Facebook. Google Plus, Twitter, Instagram, and more! The reason why we find that staying active on social media is good for you're business is because this not only builds you're social link popularity, but this is also a great way of building external links! Because as you may know, it is important to build both internal, and external links!
What is the difference between Internal Links and External Links?
        Internal links, are links within you're website pointing to you're website. For example, say you have a page, and within that page there is a link pointing to you're "Contact Us" page. Internal links play a major roll in link building, because unlike external links, you have total control over you're internal links. What we like to do is point to the most important pages in the website. This helps search engines recognize the pages with the most value. For example, lets say you have 1000 pages in total with no internal links whats so ever. When search engines crawl through you're site, it won't be as easy to recognize the pages with the most value, as if their were 1000 pages with links pointing to the top 5 pages.
       External links, are links coming from other web sources pointing to you're website. These links are very important, because this lets search engines know that other people are interacting with you're site. Most people have the most trouble with these, because they may not have a plan to do so yet. This is where we come in. There are many ways of gaining external links, for example one of the ways we do so is by having the websites we work on in our agency point back to us, or by interacting with others on social media, simply with a share, you are gaining an external link! It is a simple as that! But some people may not have the time to do so, or they simply just can't! This is why they come to us so we can help them grow as a business.
Keep in touch! We are on:
– Facebook
– Twitter
CONTACT VIVID CANDI'S LAS VEGAS OFFICES TODAY!
8275 S. Eastern Ave., Suite 200
Las Vegas, NV 89123
702.726.7802