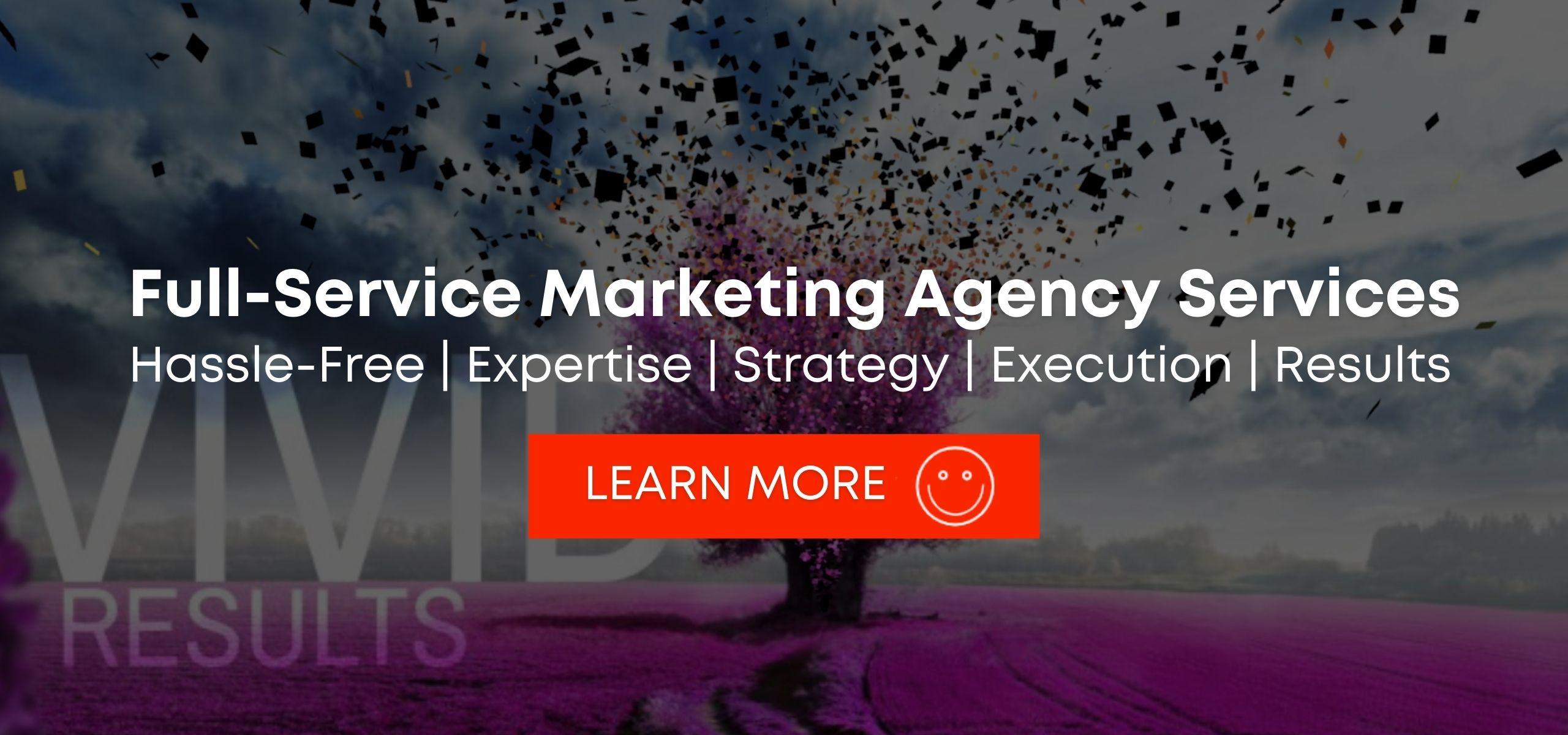 Full-service marketing agencies are agencies that can handle any marketing task from start to finish. Does your brand need help with SEO, Pay Per Click and social media campaigns? Or maybe you are trying to create a new brand identity for your business and need top-notch videos and a brand new website? A full-service marketing agency has got you covered with all of these services under one roof! Outsourcing your marketing to a full-service marketing agency that provides clear-cut strategies and execution can increase your business in every aspect since you are working with experienced specialists who can offer expert insights on your campaigns.
Top Services Full-Service Marketing Agencies Offer:
Account Audit & Marketing Strategy
No winds are favorable if a ship doesn't have a destination. This especially rings true if you want to execute marketing campaigns across multiple channels. Clear marketing strategies can help you plan for flawless execution, distribute budget and plan out existing resources to achieve maximum return on investment.
A full-service marketing agency usually performs an account audit and analyzes existing data across various marketing channels as the first step to identifying areas for improvement. This step can uncover information about your ideal customer demographics, age, locations and what has worked well for your business before.
A good marketing strategy will clearly define the desired objectives and how to achieve them based on your unique business. A lead generation strategy for a B2B company is different from promoting a financial planning service company or an E-Commerce jewelry brand. With in-depth account audit and strategic planning, agencies can kickoff your campaigns with end goals in mind.
Sometimes agencies can go an extra step to show you behind-the-scenes data from your direct competitors. Working with an agency can help you utilize marketing tools that an in-house team or freelancers may not have the access to.
Performance Monitoring & Data Analytics
Monitoring performance and making changes based on marketing data is crucial to the ongoing success of any marketing campaign. A full-service marketing agency can help you understand the Key Performance Indicators (KPIs) of your campaigns and make insightful suggestions based on existing and new data.
Marketing campaigns are not just "set it and forget it". It requires skilled specialists who are trained to understand if a campaign is underperforming or knocking it out of the park with amazing results.
A great benefit of working with a full-service marketing agency that is experienced with integrated marketing is that your business can lift brand awareness and increase sales across the board. You can also reap the benefits of the compound increase in results. There is a golden 7 rule in advertising: A prospect needs to be exposed to an advertising message 7 times for them to take an action. This rule also applies to digital marketing. It's always better to reach your customers multiple times from the devices and software that they use on a daily basis.
Search Engine Optimization (SEO)
A well-equipped full-service marketing agency usually offers Search Engine Optimization (SEO) services to rank business websites on top positions on the Search-Engine-Results-Page such as Google, Bing and Yahoo. Optimizing your website's search engine ranking ability is a great way to help you show up in the search results when potential customers look for solutions and products online.
SEO can be applied to all the content on your website including images, videos, infographics and more. SEO is also separated into technical SEO and content SEO. A full-service marketing agency has the resources to not only optimize a website's "gears", but also produce high-quality and unique content for the website's "look".
A technical SEO specialist is also an expert at building internal, external and back-links for websites so that search engines such as Google and Bing can understand how much "authority" your website has regarding a certain topic.
All in all, SEO is extremely beneficial to a business' long-term online presence and is a vital part of recommendations from a full-service marketing agency.
Full-Stack Web Design & Development
Web design is essential for any business in the modern world. A website is a business' digital storefront. A business website needs to encapsulate your brand's identity, services, and products with visually pleasing UX/UI design, and have the ability to convert website traffic into action-taking customers at a high percentage. Creating a custom website for your business instead of doing it yourself, using templates or hiring freelancers will not only make the website-creation process easier for you, but it will also produce better results by making a great impression when customers visit your site.
For example, we redesigned the website for a resort – Lake Arrowhead, with beautiful UI/UX that has a special emphasis on the mobile experience. The revamped website increased page sessions by 59%.
Full-service marketing agencies also provide Conversion Rate Optimization (CRO) services to improve an existing website and help it convert better.
Pay Per Click (PPC), Paid Media for Instant Results
Pay Per Click marketing (PPC) is one of the best ways to bring instant results for businesses that have the budget to do so. Paid advertising includes paid search, paid social media, programmatic ads, display ads, native ads and more. With advanced targeting options, advertisers can help you put your business in front of your ideal customers with PPC.
PPC marketing involves researching keywords and audience interests, setting up PPC accounts, testing campaigns, optimizing landing pages, and analyzing results for continuous improvement. PPC marketing is an excellent source for businesses to achieve massive short-term growth. With trackable data and direct reports on return on investment, PPC specialists can help you accelerate your business growth and elevate your brand awareness.
Studies show that video ads continue to outperform image or text-based ads. According to Databox, 52% of marketers say that video drives more engagement than images.
A full-service marketing agency can help you produce high-quality video content, launch campaigns, and build out your conversion channels with retargeting ads. Research from PPC can also be applied to other digital assets such as website design, social media, and SEO.
For instance, our agency helped a real estate client discover a new market for a cheaper product line through PPC efforts. Want to know how we did it? See the entire study here.
Social Media Marketing (Paid & Organic)
Social media marketing is all about bringing your brand's image to life and being authentic for the internet community! Having a social media strategy helps brands closely engage with potential customers and grow a community of loyal fans. There are a few different channels for social media marketing, including Facebook, Twitter, Instagram, TikTok, LinkedIn, and Snapchat among many others, all running with different algorithms.
A full-service marketing agency can help you sync content across all platforms, creating a cohesive brand voice and analyzing insight data to see what your audience likes to see the most. This helps you save money on creating content that can potentially go viral.
Paired with effective paid social advertising, your social media accounts can become a sales-generating machine.
Want to see how we increased social media conversions by 300%+ for a restaurant business? See our case studies here.
Email Marketing for Consistent Results
Email marketing is a marketing strategy used by many businesses to re-market to existing customers utilizing first-party data. With tools and software, email marketing can be automated newsletters, welcome messages, birthday messages, upsells, and limited-time offers. Email marketing automation can help segment customers who have different interests and send them personalized, tailored content to boost customer loyalty. It is also cost-efficient since it's so much cheaper to market to existing customers. Email marketing is a great way to keep your customers engaged and excited about your business all year round!
Email marketing is also known to increase conversion for eCommerce and online ordering, considering the fact that 69.57% of consumers abandon their shopping carts. This positive result is clearly demonstrated in one of our case studies for a restaurant client. In this case study, we grew the client's email list by 12k in 10 months and set up 12 automated email series. Two of the automated emails recovered 260 abandoned orders in 2 months.
Influencer Marketing for User-Generated-Content (UGC)
Brands in the fashion, beauty, automotive, and lifestyle industries can benefit from influencer marketing. Influencers help brands increase brand awareness with cost-efficient User-Generated-Content (UGC). It is one of the most effective content marketing strategies as users on social media prefer authentic content that they can trust.
When working with Instagram influencers with 100k to 1 million or more followers, your brand will experience a "bump". A "bump" is when a well-known influencer creates a drastic increase in your brand awareness, followers, website traffic, and sales by recommending your brand on their social media platforms to their fans who trust their recommendations.
Influencer marketing is a key to success for many lifestyle and beauty brands because they produce organic popularity. One of our automotive clients reached 50k+ of their target audience in just a few days with an influencer post.
Work with a Full-Service Digital Marketing Agency
Working with an all-in-one marketing team that has a collaborative environment can help your brand deliver award-winning integrated marketing campaigns. Outsourcing your marketing to an agency team that works efficiently together can maximize results for your business. With comprehensive strategies and solutions to grow your brand in 360 degrees, an agency can help you streamline and automate marketing without your in-house team scrambling to catch up with modern digital marketing technologies on every platform. Your agency can easily diversify your marketing effort to help you reach your full potential.
Vivid Candi is a full-service marketing agency located in Malibu, CA. We offer a wide variety of services such as PPC, SEO, digital advertising, social media marketing, web design, and more. We are a cohesive team that divides the work between different specialists to ensure that we produce the highest quality work with noticeable results.
Schedule a free consultation with our experts today!