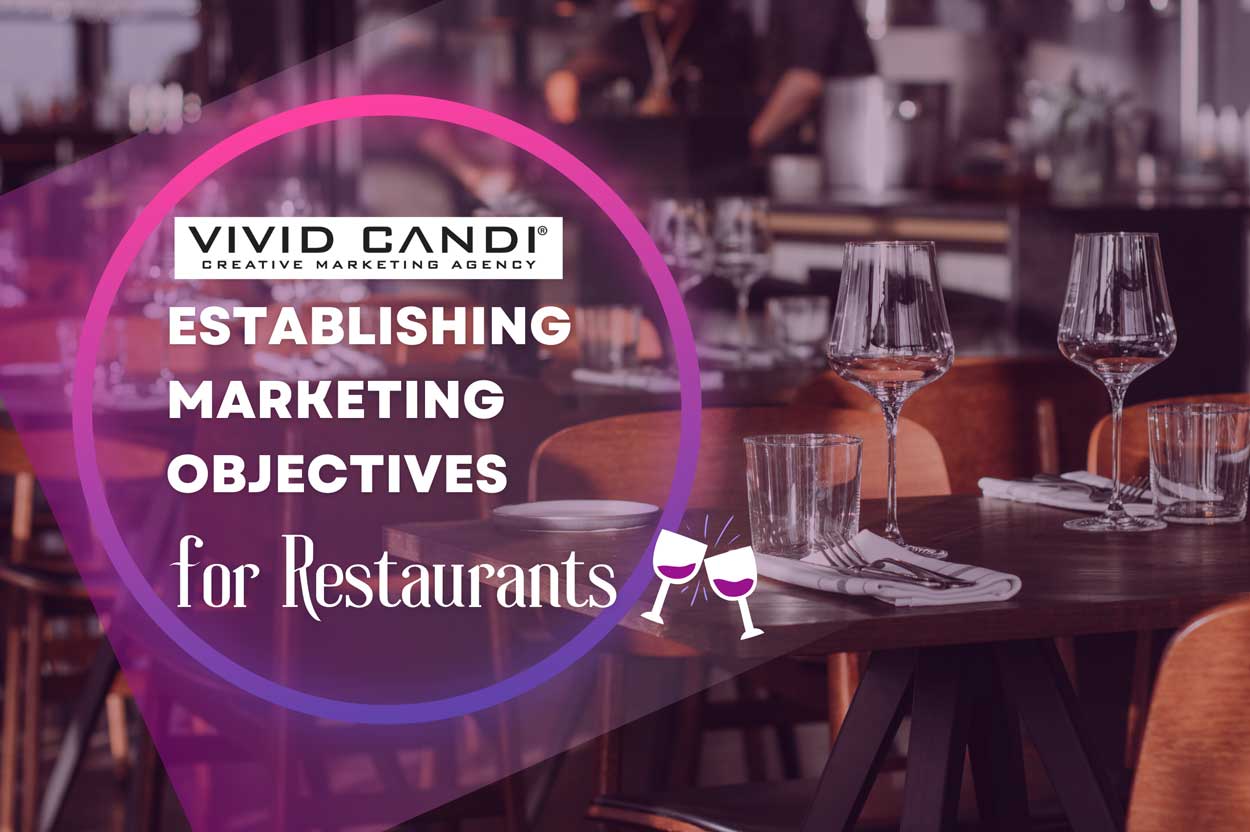 Recognizing your Marketing Objective For Restaurants helps you put together a successful strategy road map when it comes to marketing.
This is a crucial first step in marketing and will help you stay on top of the marketing trends as they change.
Have you ever thought of your marketing objectives? What are the goals that you have each quarter, monthly, and daily? And then the road map to get you there. Having a marketing agency that specializes in restaurant marketing can help you with this as well. In this blog, I will walk you through how to have marketing objectives in place for your restaurant.
Here are some examples of possible restaurant marketing goals:
Increase your brand identity:
Allow others to recognize your brand by making yourself known in your area. Boost the number of people who come back. Get a few regulars to come in the door. Increase the average check: the stronger your customer relationships, the more money they'll spend.
Lead generation:
Lead generation is the process of attracting potential customers' interest to increase future revenue. Many companies consider it to be an important aspect of their sales process. The first rule of marketing is to know who you're selling to and who needs or wants what you have.
Brand awareness. Get the word out about your business and its products to individuals who might be interested.
Make yourself known in your community and allow people to recognize your brand.
When someone suggests, "Let's eat pizza tonight," you want people to quickly recognize your business as one of the best options out there. That's what brand recognition is all about.
Because we live in a time when technology is constantly evolving, brand awareness is very important for every business. This is because individuals constantly have a computer in their hands, whether it's a smartphone, a tablet, or a full-fledged laptop or desktop computer, allowing them to communicate with others in a matter of seconds.
This could work in your favor or against your business. It all comes down to how you use it and how you adapt to these various technological advancements. Being proactive in brand marketing via social media will increase the brand experience for current customers while also converting potential customers into loyal brand followers, and new customers coming to your restaurant.
Here are some tips on how to generate brand awareness:
Use third-party review sites to your advantage.
Ratings and reviews have never been more significant in today's digital platform, where anyone can be an online critic. Restaurant owners should use online reviews as strategic marketing tools because the majority of the people trust others' experiences.
Build a social media marketing plan
Restaurant owners may use social media to set the tone and flow of their business, make new connections, and maintain a devoted customer base. But it's more than just publishing a couple of times a week on Facebook or Instagram; it necessitates a creative, strategic plan that connects and encourages customers.
Spend time developing a social media marketing strategy that aligns with your company's objectives such as.
Ø Your Ideal target market And how to reach them
Ø Which  Social media platforms to use
Ø The tone and voice of your business
Brand consideration: Getting prospects to think of you.
If you have a strategic marketing plan you can get prospects thinking about you as the choice for where they eat. The more they see your brand your colors, the food, hear about your restaurant the more they will be thinking about you ongoing.
Create a name for yourself in the community. Make sure locals know you!
Whether it's a postcard or a brochure this method has been a proven method in bringing in new clients to your area.  You might want to include this in your restaurant marketing goals. Using special deals and coupons to attract new clients is a very efficient strategy. You can also optimize search engines by registering your restaurant's website with local directories and keeping local listings up to date so that consumers can find you when they need to.
Sales: Persuading customers to go to your restaurant and buy from you
Turn your current customers into brand ambassadors.
Existing clients might be your most powerful promoters. Treat them well, and they'll tell their friends about how great your restaurant is. When customers come to your restaurant, try to remember who they are, what they ordered previously, what reviews they left, and how you assisted them. You can collect this information from your customer database.
You can also use social media as an ambassador is find local ambassador influencers for your content and brand awareness.
Try to offer new foods to them and ways they can promote your restaurant and food into the community. They will feel needed and cherished as a result of such efforts. Regular consumers generate greater sales for restaurants than new customers. As a result, customer retention becomes critical. Your regular customers will promote you through word of mouth and by bringing friends and family to your restaurant, which will help you improve sales. Getting your consumers to return will always be your greatest triumph!
Give them a reason to return whether that be a discount when they bring friends and family or a coupon on their next order.
Upselling to increase sales
Regardless of how well your restaurant is doing, there's a good chance you'd like to raise your sales. Upselling at restaurants is one of the simplest methods to do this. It's the process of persuading clients to upgrade their existing purchases or purchase more things. Upselling is the most popular tactic used by restaurants to increase earnings. You can also give away complimentary samples of the new items you've added to your menu to boost restaurant sales. Customers will notice these dishes as a result of this activity, and they will be more likely to request more.
By asking your consumers if they need anything else or would like to add on or any extra food to take home with them. A simple question like this can compound over time and add more sales to your restaurant business.
These are marketing strategies that you can utilize to reach marketing objectives for a restaurant. Using these marketing tools and methods can help you save a lot of time and effort in improving your business. It's a lot easier to determine the proper path for your restaurant and the right message to send to your clients if you're completely clear on your marketing objectives.
If you need help with your marketing objectives for your restaurant as well as a plan book a call with vivid candi. You will receive a free custom call for your restaurant business to help you out with marketing objectives and strategies to reach your goals.